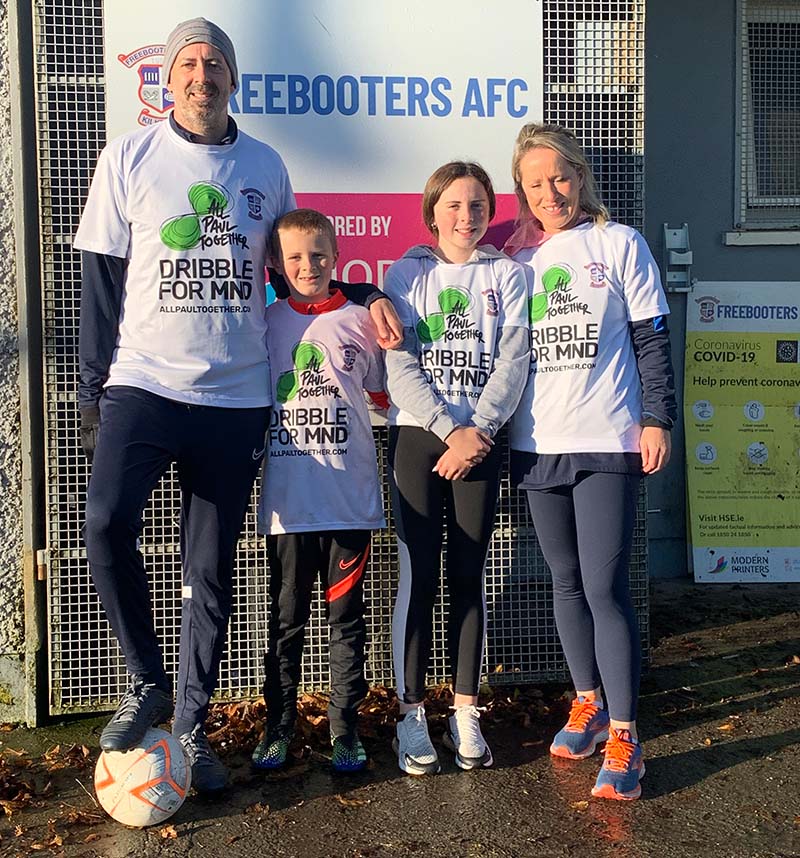 Welcome to the All Paul Together News page. We'll use this page to provide updates around upcoming events, fundraising activity, my ongoing fight against MND and how funds are being spent to help control my disease progression.
It's now been nearly two weeks since the Dribble for MND event and I am absolutely thrilled to let everybody know we have raised €16,407 thanks to everyone's amazing generosity. The Gofundme total has been gradually moving in the right direction over the last three weeks and in addition to the amazing total that's been achieved on that platform, we also took €4,075 on the day of the event. I've said this before, but I don't think I can ever say it enough, thank you so much to everybody who has taken the time to support this cause. I'm delighted to be able to donate 25% of everything taken so far to the Irish Motor Neuron Disease Association (IMNDA) in order to help them to continue to deliver the superb service they provide to all MND sufferers in Ireland. I look forward to being able to provide them with further funding as the All Paul Together Fundraising efforts continue In the coming months.
From a personal perspective the funds that have been raised have allowed me to start in earnest with a carefully constructed plan involving a variety of therapeutic approaches. The aim of this plan is to slow down the progression of my disease and give me and my family a better quality of life for as long as possible. This includes following a strict protocol that involves me taking over 15 different supplements on a daily basis alongside following a mainly plant based and organic diet. Additionally, we've been able to focus on detoxifying my body of potentially harmful metals that can speed up disease progression, which starts with undertaking various tests to establish the levels that exist before following multiple different detoxification processes. As part of this process we've also been able to invest in a water filtration system for our home and start to use only natural cleaning products, free from metals, that will help reduce my exposure to harmful materials. I've been able to start availing of wholistic expertise such as homeopathic practitioners, bio-energy therapists and reiki specialists, all of whom provide an alternative approach designed to positively impact my symptoms. We are also researching multiple treatments and medical equipment from abroad that have been shown to slow disease progression in other sufferers and are likely to invest in this area in the near future.
The funds that have been raised to date through both the Dribble for MND event and previous events kindly run through the All Paul Together community, have helped to raise over €30,000 which have taken an enormous financial strain off our shoulders in the short term. Those fundraising efforts have also helped us raise over €7,500 for the IMNDA to support others suffering from MND. This is still the tip of the iceberg in terms of our fund raising efforts and where I want to be able to take this community in the coming years to support others. Watch this space for further updates and how you can get involved to support this cause.
Best wishes
Paul