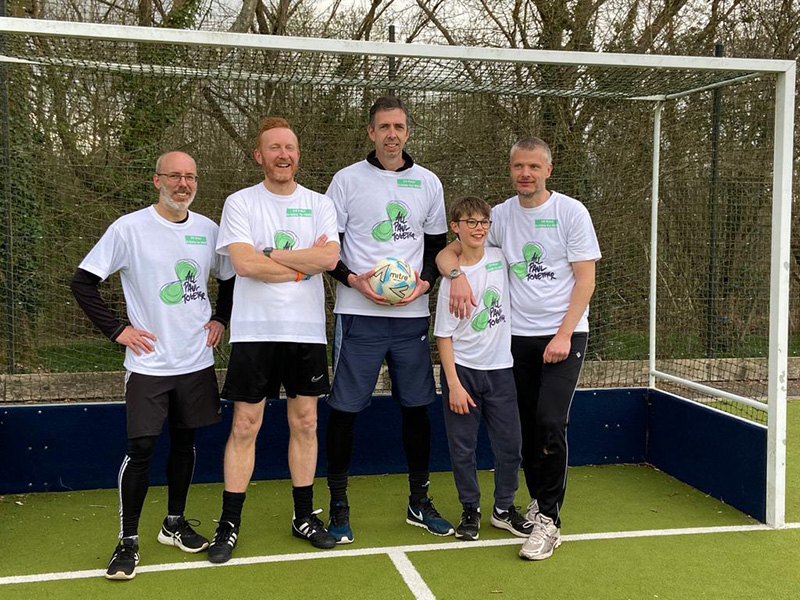 Total Amount Raised:
£8,600
Despite a cold and frosty start, we managed to kick off at 6am on Saturday 2nd April in the warmth of the school sports hall. I started with the support of Ant A and his son Joseph, and together we started off a good pace of approx. 7.5 mph. Tim Y joined us around 8am and after 3h 15 mins we had completed 1232 lengths of the sports hall which equated to 23 miles.
We then moved to the school astro and near perfect sunny conditions to continue the challenge of keeping the one ball moving from one side of the astro to the other. A number of pupils from Dumpton school joined me between 12pm and 2pm, which meant I was able to reduce my demands. Afterwards friends from the morning returned, plus the addition of Jamie H, and together we kept the morning pace going throughout the afternoon.
The temperature dropped with the addition of rain just after 6pm, so we returned to the sports hall. Around 8:15pm we managed to achieve the 100 mile mark, which exceeded my expectations enormously. I had expected to be walking as the day progressed, but everyone was determined to dribble the football properly by running, so the pace remained high throughout. I certainly started to fatigue once the 100 milestone had been reached and after 106 miles and 15 and a half hours of continuously dribbling the football, we decided to stop.
Thank you to every single person who has donated via my go fund me page. Cash donations were also given on the day, and many thanks to those people too. It is hard to put into words what this whole process has shown me, but I have learnt that there are many wonderful, kind and generous people who are prepared to think of others and take action to help.
My brother is heading to the Body Science Lab in Miami this month, where he is going to spend three weeks receiving various drug treatments in the hope of identifying what has caused his MND, and in the hope that his symptoms can be slowed or possibly even reversed. These treatments are very expensive, and your donations have made this trip possible, so thank you so much.
I have a long list of people to thank (below) for their support and help with this event. Without them, this event would either have not happened or the funds raised would not be so great:
• Core Support – Ant A, Joseph A, Tim Y & Jamie H
Andy G (but for covid), ably replaced by Mike G & Simon W
Put simply, this event would not have happened without you, I am so very grateful for the time and support you have given Paul and I
• Rachel, Sam and Joseph for doing whatever was required on the day, including keeping us supplied with the necessary food and energy to keep going,
• Other family members and friends (Ian P, Andy A, Jen S, Paul A and Chris J) – thanks for your additional support on the day.
• Dumpton School pupils – Juniors (Zara H, Charlie N, Jack F-D, Alexander N, Luca L, Alex S & Gabriel R) & Seniors (Zac W, Max D, Charlie R, Harrison B, Ellery B, Harry R & Charlie S). You allowed me to rest which aided me enormously for the rest of the day
• Year 6 Dumpton Parent team – Kay for organising the additional fund-raising events, and Catherine, Sarah, Hannah & Kirsty. I am so thankful for the time and energy you put into this and truly grateful for the extra funds that you have raised.
• Dumpton staff – Caroline D & Lerryn C for all the social media and admin you have provided. Gary A for your help on the day
• Waitrose for providing some water and fruit to help us get through the event.
Once the final amounts have all been finalised, I will provide another update, but it is safe to say my target has been exceeded!